'An Allegory of The Tudor Succession' by Lucas De Heere was commissioned by Elizabeth I in 1572 as a gift for Francis Walsingham, her spy master. The artwork was purchased by former Sudeley Castle owner, John Coucher Dent, at the sale of the collection of Horace Walpole at Strawberry Hill in 1842 for £210. It was initially attributed to Hans Eworts, but was re-attributed by Sir Roy Strong, amongst others, to Lucas de Heere. 'An Allegory of The Tudor Succession' is on permanent display at Sudeley Castle after returning from the National Gallery of Wales.
The painting, the last in an allegorical series, displays Henry VIII, the founder of the Church of England, passing the sword of justice to the Protestant Edward VI. Elizabeth I is shown on the right, with the Catholic Mary I and her husband Philip of Spain to the left. Both Elizabeth and Edward are shown standing on a carpet whereas Philip and Mary are adjacent to the carpet. This carpet symbolises the Church of England, and with the presence of Mars, the God of War being shown behind Philip, there is a clear implication that by returning to Catholicism and an alliance with Spain there will be troubles and possibly even war. Behind Elizabeth are shown the goddesses of Peace and Plenty, with this again being a clear implication that the future of the country lies with the Church of England and that Elizabeth is the culmination of the Tudor dynasty. The picture is a political and religious proclamation and the artist has concentrated on the richness and opulence of the Tudor world and not on their faces.

There is a suggestion that the background behind Philip shows Rome. At this time, Rome was controlled by Philip who therefore, by implication also controlled the Pope. Other researchers have suggested that the building is one of the few pictures of Nonsuch palace, Henry's ultimate building, but it is more likely to be that of Whitehall Palace, the working heart of Tudor government.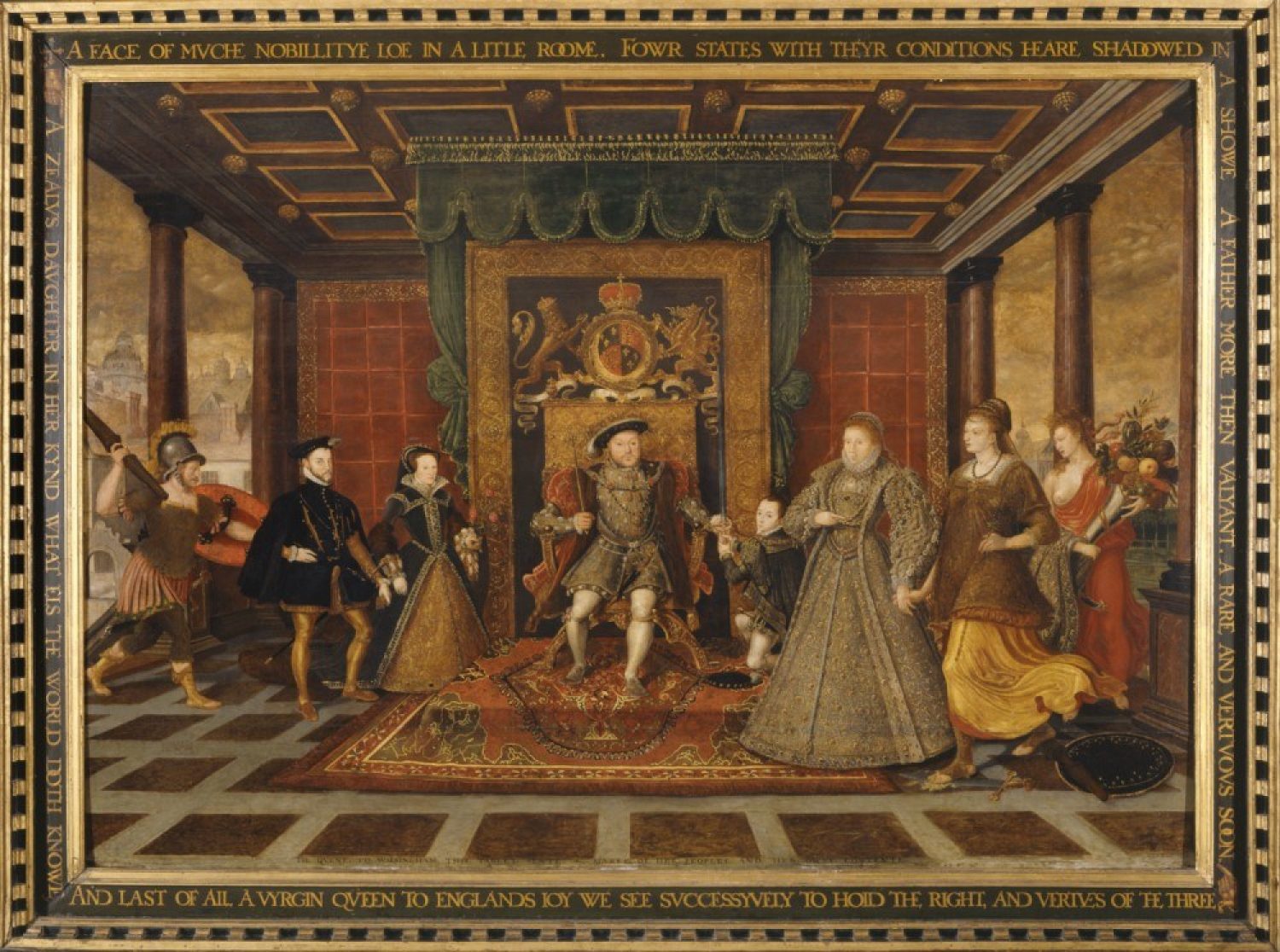 The rhyming couplet at the bottom states "The queen to Walsingham this tablet sente / marke of her peoples and her owne contente"

The frame inscription reads –
A face of muche nobillitye lie in a little roome,
Four states with theyr conditions heare-shadowed in
A showe, a father more than valiant, a rare and virtuous Soon,
A zealus Daughter, in her kind, what els the worlk doth knowe,
And last of all a Vyrgin Queen to England's joy we see,
Successyvely to hold the right and virtues of the three.

This dismissive description of Mary and the praise and stature of Elizabeth emphasise the benefits of the Protestant succession. All five Protestant figures to the right are connected by a continuous thread of arms and hands to Peace and Plenty.
Find out more about this piece of historic artwork in this short film featuring historian, Dr David Starkey:
Want to visit Sudeley Castle? Tickets available here
Explore more
There is always something going on at Sudeley…