Famous figures from Sudeley Castle's past returned to the historic attraction to mark the start of its 2019 season.
Queen Katherine Parr was among a number of historic reenactors, including Thomas Seymour, Anne Herbert, Princess Elizabeth and her governess, who visited the Castle (on Monday March 4) to celebrate its reopening after being closed for winter.
The royal retinue also marked the historic tradition of Pancake Day, which has its origins in Tudor times.
Sudeley Castle's general manager, Wendy Walton, said: "We are delighted to welcome visitors back to Sudeley to enjoy our beautiful castle and gardens for another season, and to mark the ancient tradition of pancake day."
In keeping with tradition, Queen Katherine and her fellow historic characters flipped pancakes, cooked in the castle's newly refurbished kitchen, and even had a pancake race!
Wendy added: "Pancake races form an important part of the Shrove Tuesday celebrations and are often done in fancy dress, so we couldn't miss the opportunity to invite our special visitors to honour the tradition with us today!"
The tradition of making pancakes is long, and featured in cookery books as far back as 1439. The tradition of tossing or flipping them is almost as old.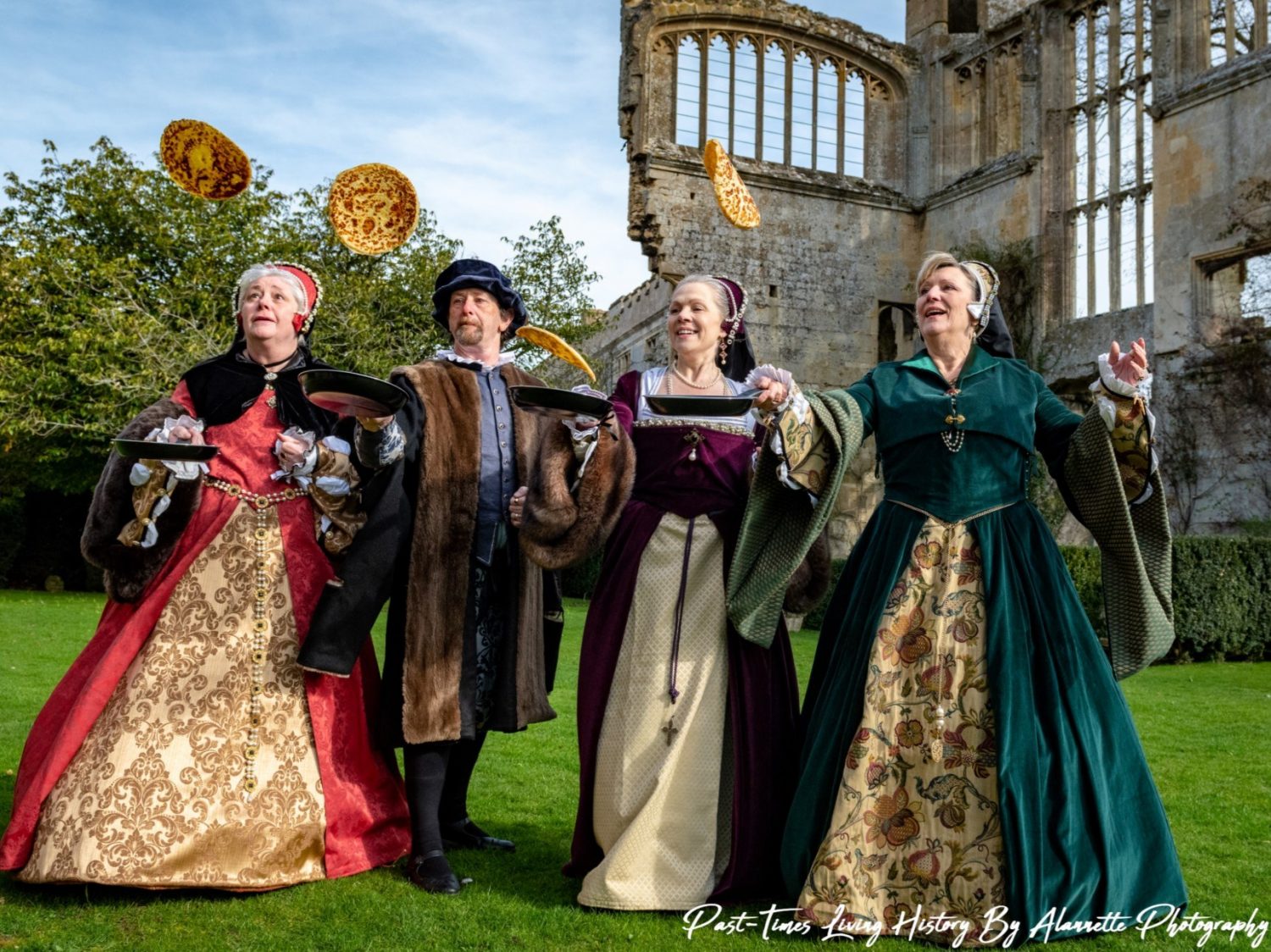 Sudeley Castle was one of the Tudors' most treasured palaces, often housing those closest to the crown. It's where Anne Boleyn stayed with Henry VIII while he decided to dissolve the monasteries, and where Katherine Parr, Henry's last wife, lived after he died. She now lies entombed in the Castle's church.
This week the castle marks another important milestone, as today – Tuesday March 5 – would have been the 196th birthday of past chatelaine Emma Dent, who lived at Sudeley from 1856 until 1900 and was responsible for the 20th Century renaissance of the property.
Today the castle is home to Elizabeth, Lady Ashcombe, who this year celebrates 50 years of living at Sudeley after moving there in 1969 with her husband Mark Dent-Brocklehurst.
Wendy added: "This is a big year for us – not only is it 50 years since Lady Ashcombe moved here but it also promises to be our most ambitious year to date. We have a fantastic programme of events on offer throughout the year, and we are really pulling out all the stops to ensure this will be a great year for Sudeley."
There will be a host of new events on offer for the first time this year, including summer evening garden tours, dawn chorus walks, outdoor theatre productions of Shakespeare's A Midsummer Night's Dream among the beautiful castle ruins, and a new 'Women of Sudeley' exhibition in September.
Wendy added: "Spring is just around the corner and it's my favourite time of year at Sudeley Castle. Our 10 award-winning gardens come to life and are awash with colour – it won't be long before the tulips, daffodils and other spring flowers emerge, shortly followed by our spectacular display of more than 80 varieties of rose in full bloom."
Sudeley Castle is widely recognised as one of the most romantic and beautiful castles in England, surrounded by a 1,200 acre estate and 10 award-winning gardens.
Plan your visit to Sudeley
Explore more
There is always something going on at Sudeley…