As part of the Kingfisher Trail 2021, we will be hosting our very own Kingfisher here at Sudeley Castle this summer!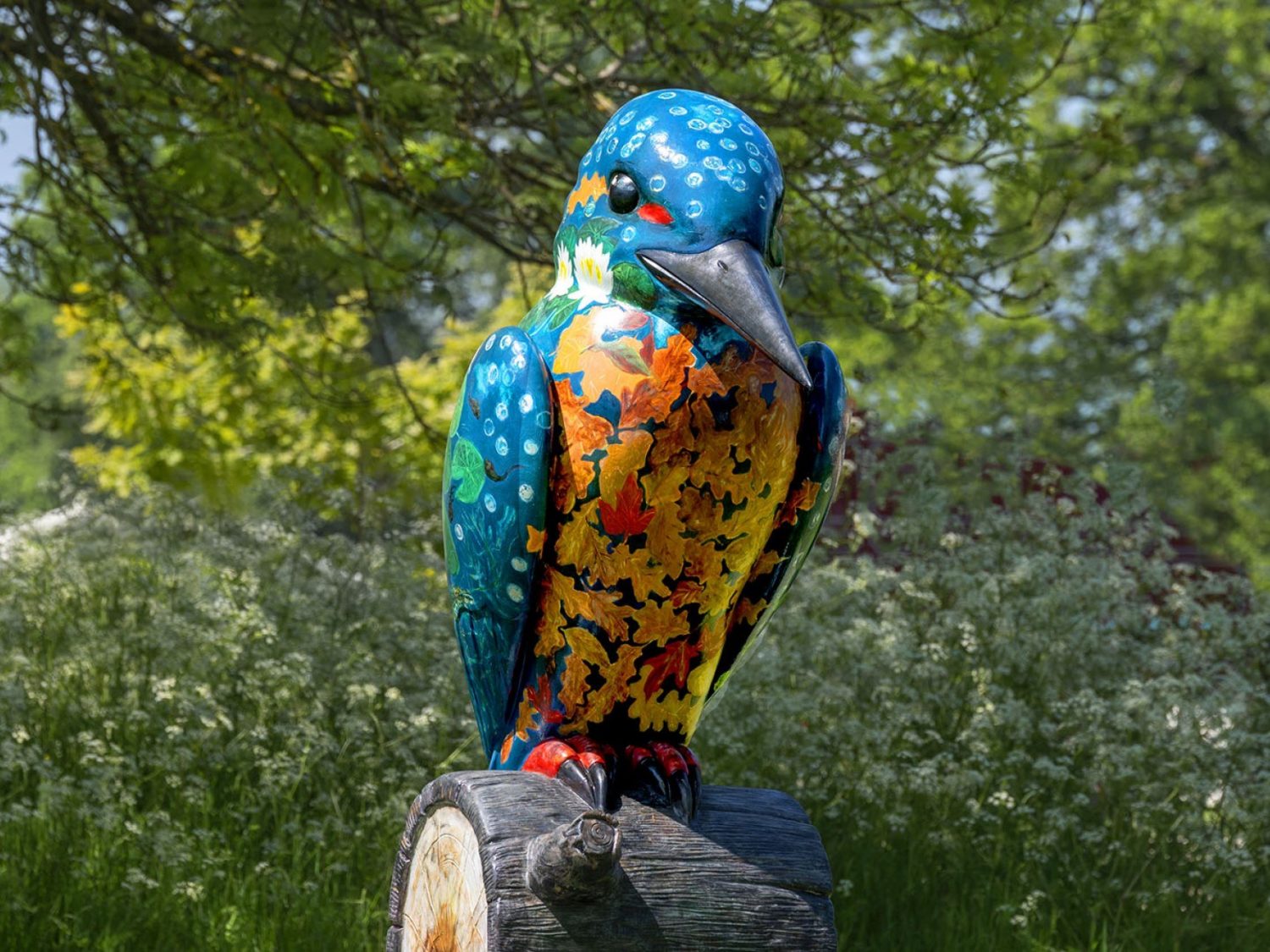 The Kingfisher Trail is a sculpture trail taking place across the Cotswolds region this summer. Launching on 31 May and running until early October, it will provide a unique way for people to connect with nature and the great outdoors in 2021. It's for everyone, so residents and visitors are all invited to join in with this accessible, fun and free activity.
The Kingfisher Trail will have 21 dazzling sculptures – all supported and creatively designed by celebrated national and local artists, led by internationally renowned painter, PJ Crook MBE. Many of the exciting artists involved in the trail are based in and around the Cotswolds.

Organised by the team at Cotswolds National Landscape, the Kingfisher Trail will encourage people to discover the giant kingfisher sculptures across two distinct routes inspired by the rivers Severn and Thames. The kingfisher has been chosen based on its reputation as a resilient and adaptable bird – characteristics shared with the communities and businesses the trail seeks to support as we all begin to recover from the coronavirus pandemic.

An App will be launched to coincide with the start of the Trail that will allow you to 'tick off' the kingfishers over the course of the summer. So start planning your kingfisher spotting now, and while you are here, stop for lunch and enjoy the attraction, Pantry café, and local town.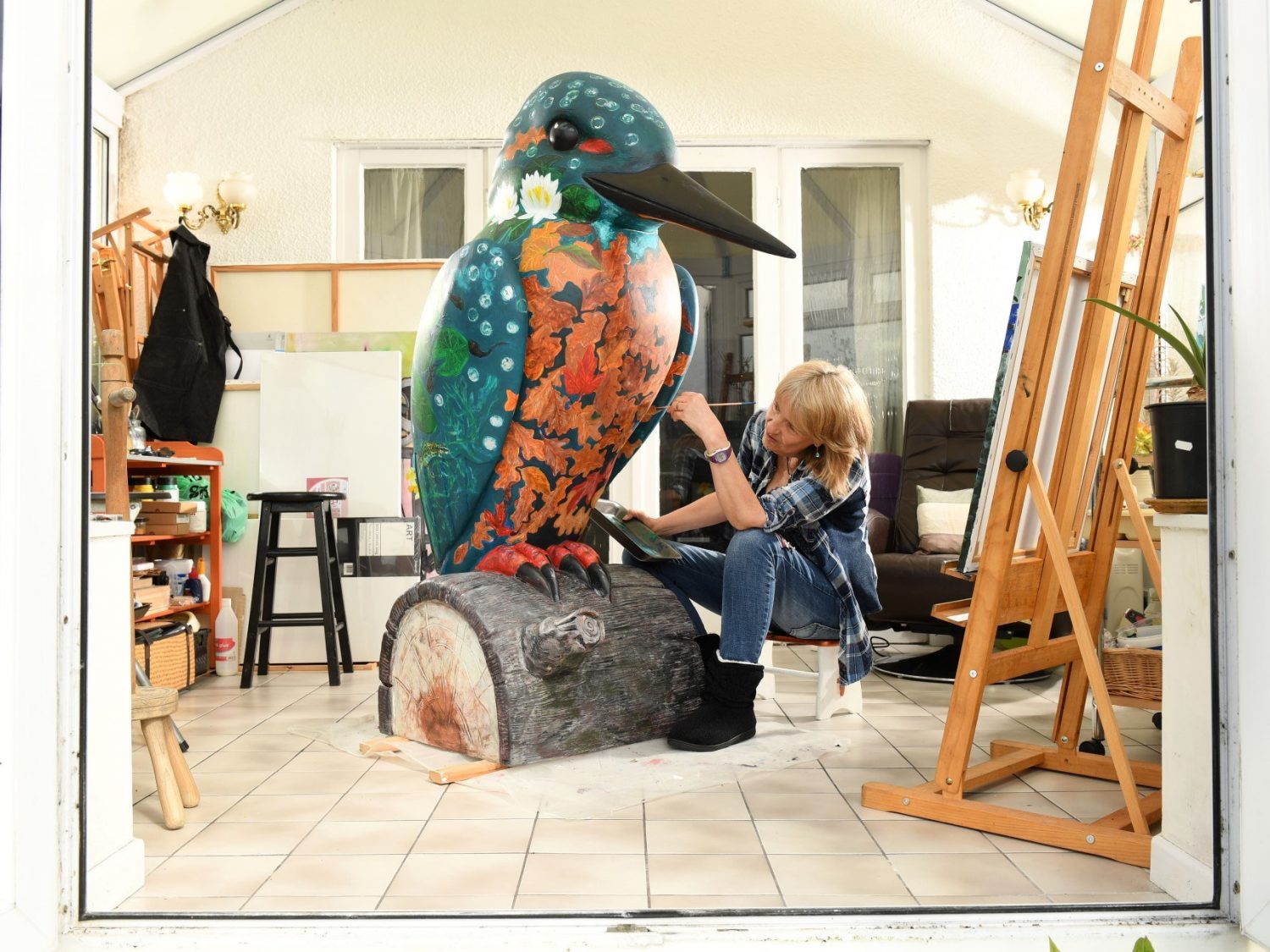 ABOUT THE ARTIST - Shiloha Levi
Shiloha, who lives and paints in the Saxon town of Winchcombe in the Cotswolds, has a passion for oil painting, but also loves textiles and theatre. She did her Foundation degree in Art and Design and HND in Theatre and Costume at Croydon College before going on to work freelance in theatre and film as a costume dyer and enhancer. She also worked for several years with English National Opera, where she was head of the dye department.
Shiloha inherited a love for portraiture from her great grandfather Reinhold Thiele, himself a portraitist, Boer war press photographer and pioneer of flash photography whose photographs can be seen at the National Portrait Gallery. She herself has exhibited at several galleries and spaces in London and more recently at Gloucester and Tewksbury Cathedrals, Sudeley Castle, Broadway Arts Festival and the Gardens Gallery, Cheltenham, twice winning second prize at the Cheltenham Christian Arts Festivals, judged by PJ Crook MBE, and also first prize at Art in the City Gloucester, 2018.
Not only has the Covid pandemic caused Shiloha to be absorbed with painting some of the glorious Cotswold scenery experienced on her lockdown walks, and turning these images into cards, it has also driven her to paint portraits of her local Knit and Natter group. For many of the group, isolation and loneliness have been a real issue. She will be showing the portraits at the local museum later this year to raise awareness for Age UK Gloucestershire.
MOTIVATION BEHIND THE DESIGN - AVIUM GLORIA
With my kingfisher I wanted to show how much they are a part of the river where they hunt and fish, mate and fight, live and die. So I have painted my one by incorporating river life and lake.
Local rivers, lakes and streams have been the inspiration for my kingfisher. In fact, just a short distance from the ancient ruins of Hailes Abbey lies a spring fed lake built hundreds of years ago to supply fish to the monks, and now stocked with fish by the current owners at Hayles Fruit Farm. Here, I love to walk around this tranquil backwater, taking photographs which are then turned into oil sketches and paintings. I love the light on the trees, the shadows on the water, drawing and painting the water lilies and carefully examining the shallows which in spring teem with tadpoles and baby frogs.
Nearer to home is the cheeky, bubbling Isbourne river, also a constant source of artistic inspiration for me. This tributary of the River Avon eventually becomes part of the Severn with its Kingfisher Trail.

The Kingfisher at Sudeley Castle is visible to see free of charge near the Visitor Centre. Admission tickets are required to enter Sudeley Castle & Gardens.
Want to visit Sudeley Castle? Tickets available here
Explore more
There is always something going on at Sudeley…